Danielle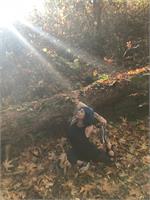 Danielle DeCanti Gibson took her first yoga class in 1997 and, after relying heavily on her practice to find health while managing a tricky autoimmune disorder, decided to start teaching in 2013. She's trained in a wide scope of methods, including kundalini, yin and vinyasa. Given that foundation, her classes revolve around the trifecta of challenging, alignment oriented physical practice, devotional mantra, and blissful meditation. Whether we are sweating, chanting, or simply breathing mindfully the destination is always a state of greater connection- to ourselves, and with each other.
Danielle instructs the following:
Meld movement and breath for an amazing mind-body practice. These faster-paced classes are perfect to create a strong, flexible and balanced body with fun and energetic music to keep up the energy throughout class! Room temperature is around 95 degrees, so be prepared to get your sweat on and detox the body!

Hot Power Vinyasa classes are best suited for the yoga practitioner who has taken at least 3 Hot Yoga classes prior to their first Power class. Terminology and alignment from Hot Yoga classes is what will help build a strong but safe practice in HPV classes. Please be well hydrated prior to class, bring your own mat, towel, and plenty of water!




This is a great class for beginners to get their feet wet in a fluid moving class without the vigorous activity in a power vinyasa class. Learn proper technique, alignment and terminology of postures (asanas), while opening tight spaces in the body and toning the body in a very gentle way. Even seasoned yoga practitioners enjoy this class because it can fine tune their physical and mental practice on the mat.

Modern life is fast enough—your yoga doesn't have to be. Deliberately mindful, measured movement can balance that frenzied energy. Go ahead and surrender to our soft, soothing, spirit-lifting sequences. Quiet your mind, relieve aches and soothe your soul in tranquil sessions that are designed to leave you refreshed. Classes are held in our non-heated room, but bring layers of clothing for your own comfort. Mats, bolsters, blankets, and other props are provided, or feel free to bring your own. All levels of yoga practitioners are welcome!




Our Hot Yoga classes are "Hatha" based with a flair of vinyasa. Haha comprises of postures (asana), Breath work (pranayama) and meditation (dyana). The longer posture holds help to increase both strength and steadiness of the mind and body, and also find benefits out of each asana with proper alignment cues and hands on adjustments when needed. The heat is designed to help increase muscular flexibility, sweat, and to help free your body from toxins. All levels welcome to these classes! Please bring a mat, towel, and plenty of water.

The temperature and humidity may vary depending on class time and number of students, but we try and make the atmosphere the same for each class. We keep our heated room to around 105 degrees (Hot Power Vinyasa classes range from 95-100 degrees). We are aware that humidity can cause serious overheating and over exhaustion, therefore we opt for a dryer heat by excluding a humidifier which most hot yoga studios in the area have.

If you have any questions about Hot Yoga at Bindi Yoga before taking a class, please let us know! All of our instructors are here to help in any way possible.