Sha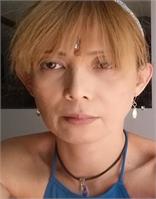 Yoga breathes a new life into me, it is my oxygen, my food, my rest, my play, my therapy for both my body and my spirit. Take me away from it and I am a fish out of water gasping for air!
Seven years [2010] ago I took the leap to be away from my "job", family, and comfort place to be trained to bring yoga to the many [that I can]. Life for me has never been the same since, I have been given back as much and even more as to what I gave and shared. To honor the opportunity and privilege to teach I continue to learn and grow as a teacher. After my certified Bikram teachers training in 2010, I farther my quest for yoga teaching knowledge by taking more trainings and workshops e.g. Senior Yoga workshop in Portland, Ghosh Vinyasa Flow in UK with renowned Tony Sanchez and just completed the Yoga Applied Anatomy Intensive workshop with another brilliant teacher Asha Wolf, DPT, CMA, E-RYT in Boulder Colorado. Recently, I just finished Inferno Hot Pilates Teachers training. A teacher has to grow to see his/her students grow!
Yoga practice, both postural and meditative comes in different forms, styles and lineage, doing what feels right, appropriate and joyful - that is the kind of class I want to take and the kind of class I want to bring!
Side note: I am a crazy-cat-lady in the works.
Sha instructs the following:
Our Hot Yoga classes are "Hatha" based with a flair of vinyasa. Haha comprises of postures (asana), Breath work (pranayama) and meditation (dyana). The longer posture holds help to increase both strength and steadiness of the mind and body, and also find benefits out of each asana with proper alignment cues and hands on adjustments when needed. The heat is designed to help increase muscular flexibility, sweat, and to help free your body from toxins. All levels welcome to these classes! Please bring a mat, towel, and plenty of water.

The temperature and humidity may vary depending on class time and number of students, but we try and make the atmosphere the same for each class. We keep our heated room to around 105 degrees (Hot Power Vinyasa classes range from 95-100 degrees). We are aware that humidity can cause serious overheating and over exhaustion, therefore we opt for a dryer heat by excluding a humidifier which most hot yoga studios in the area have.

If you have any questions about Hot Yoga at Bindi Yoga before taking a class, please let us know! All of our instructors are here to help in any way possible.