Jeni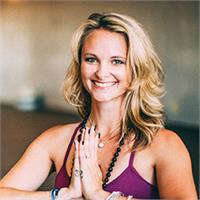 "I started my hot yoga journey in 2009. After a few classes, I found it to be the first exercise I look forward to doing and the only one I miss when I can't practice. I have found my passion and its hot YOGA. I left my classes exhausted, but smiling. I kept coming back to experience that feeling of accomplishment. Now that feeling of accomplishment has become fuel in my life. I practice and teach yoga now not only for that feeling, I practice yoga because it continues to teach me about myself, how to process my thoughts, determination, patience, and relaxation. I feel healthy. I feel strong. I love yoga and yoga teaches me how to love myself.
In 2010 I attended a weekend immersion with Baron Baptiste in Canada. At that point I'd only taken a few Power classes but what I got from that weekend was extraordinary and helped me realize I wanted to teach.
In June 2011 I traveled to Mexico to complete my Level 1 Baron Baptiste Power Yoga Training. It was an amazing experience and what a gift to give myself! In 2012, I attended Level 2 Baron Baptiste Power Yoga Training in New York. In April 2013 I attended a weekend TAP program for Assisting. In May 2013 I attended another weekend immersion with Baron again where I continued to deepen my practice and my love of it. In August 2014 I traveled to Canada to complete Baptiste's Art of Assisting program.
I had the opportunity to learn how to teach Kids Yoga in 2013. What a gift to be able to teach these young minds how to breath and move their bodies!
In June 2015 lululemon Athletica named me their Alderwood Mall Ambassador. This is a huge honor for me as it allows me to get more involved in my community and touch more lives through the practice and discipline of yoga!
In July 2015 I became a 200 hour Certified Baptiste Yoga Instructor.
Outside the hot room I'm an accountant and a mother of two beautiful children. What a gift to be able to practice yoga with my husband and children. What a life! Namaste~"
Jeni instructs the following:



Our Hot Yoga classes are "Hatha" based with a flair of vinyasa. Haha comprises of postures (asana), Breath work (pranayama) and meditation (dyana). The longer posture holds help to increase both strength and steadiness of the mind and body, and also find benefits out of each asana with proper alignment cues and hands on adjustments when needed. The heat is designed to help increase muscular flexibility, sweat, and to help free your body from toxins. All levels welcome to these classes! Please bring a mat, towel, and plenty of water.

The temperature and humidity may vary depending on class time and number of students, but we try and make the atmosphere the same for each class. We keep our heated room to around 105 degrees (Hot Power Vinyasa classes range from 95-100 degrees). We are aware that humidity can cause serious overheating and over exhaustion, therefore we opt for a dryer heat by excluding a humidifier which most hot yoga studios in the area have.

If you have any questions about Hot Yoga at Bindi Yoga before taking a class, please let us know! All of our instructors are here to help in any way possible.




Meld movement and breath for an amazing mind-body practice. These faster-paced classes are perfect to create a strong, flexible and balanced body with fun and energetic music to keep up the energy throughout class! Room temperature is around 95 degrees, so be prepared to get your sweat on and detox the body!

Hot Power Vinyasa classes are best suited for the yoga practitioner who has taken at least 3 Hot Yoga classes prior to their first Power class. Terminology and alignment from Hot Yoga classes is what will help build a strong but safe practice in HPV classes. Please be well hydrated prior to class, bring your own mat, towel, and plenty of water!