Jo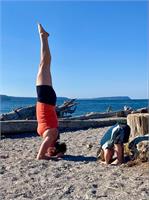 My practice has taught me how to breathe, has allowed me to tune in and appreciate myself, it builds my confidence, heals and strengthens my body, and continually allows my mind a more compassionate, clear, and patient perspective in all aspects of my life. Yoga is an incredible gift. We are so lucky! My wish is to share the benefits of yoga like they have been shared with me, while practicing and growing together in this wonderful community. I was certified to teach through Yoga Works in February of 2015, and look forward to taking more training in the near future. I am so grateful for the opportunity to share my practice in my home studio, Bindi. I strive for balance in my classes-so be ready to explore the power of breath in challenging postures, along with wonderful restorative postures and meditation. -Namaste
Jo instructs the following:
This is a great class for beginners to get their feet wet in a fluid moving class without the vigorous activity in a power vinyasa class. Learn proper technique, alignment and terminology of postures (asanas), while opening tight spaces in the body and toning the body in a very gentle way. Even seasoned yoga practitioners enjoy this class because it can fine tune their physical and mental practice on the mat.

Modern life is fast enough—your yoga doesn't have to be. Deliberately mindful, measured movement can balance that frenzied energy. Go ahead and surrender to our soft, soothing, spirit-lifting sequences. Quiet your mind, relieve aches and soothe your soul in tranquil sessions that are designed to leave you refreshed. Classes are held in our non-heated room, but bring layers of clothing for your own comfort. Mats, bolsters, blankets, and other props are provided, or feel free to bring your own. All levels of yoga practitioners are welcome!