Christina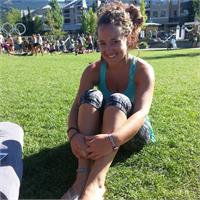 My first Hot Yoga class was with Michelle here at Bindi back in 2013, & it changed my life! I am forever grateful! Yoga taught me how to love myself. It made me realize that this is the only body I have, and I need to take good care of it by giving it what it needs. Through Hot Yoga alone, I lost 40lbs that I had been stuck with for too many years. I began to release toxins that had built up in my body, and I was feeling better than I ever have before. I was rearranging my schedule for yoga as it became a priority in my life. That's when I knew that Hot Yoga was for me. I had found my "Happy place", and it became my passion. In June 2016 I received my 200hr YTT Certification to deepen my practice, and to learn to express my love for yoga to others. We all strive for Samadhi- "Pure Bliss", and Yoga will get you there! I hope you join me in my Hot Yoga classes, maybe love something new about yourself, dig deep, and get sweaty with me!
Christina instructs the following:
Meld movement and breath for an amazing mind-body practice. These faster-paced classes are perfect to create a strong, flexible and balanced body with fun and energetic music to keep up the energy throughout class! Room temperature is around 95 degrees, so be prepared to get your sweat on and detox the body!

Hot Power Vinyasa classes are best suited for the yoga practitioner who has taken at least 3 Hot Yoga classes prior to their first Power class. Terminology and alignment from Hot Yoga classes is what will help build a strong but safe practice in HPV classes. Please be well hydrated prior to class, bring your own mat, towel, and plenty of water!




The bridge class between Hot Yoga and Power Vinyasa Yoga. The class is perfect for those who want a

bit more of a workout but are not ready for the power class. Class is held in the hot room at a toasty 105 degrees.