Jennifer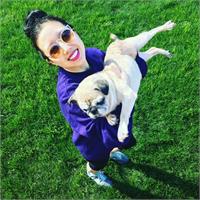 I never thought in a trillion years that I'd be teaching yoga when I followed my heart and calling to pursue Kundalini Yoga Teacher Training Program in fall of 2013 at Yoga West in Los Angeles, my second home. In the past, I've dabbled with yoga in high school and college, but it wasn't until I ran into a kind lady at SeaTac Airport when I gave it a heartfelt chance. Surprisingly, she and I happened to be on the same flight. I still remember her comment, "Jen, you're so lucky to be in Los Angeles. I fly out to Los Angeles for yoga..." I was curious and quickly jotted down the name of the studio. I went there a few days after our SeaTac encounter, and the rest is history. Now yoga is part of my life, and I'm grateful for this mindfulness practice. Love and hugs, Jennifer!
Jennifer instructs the following:

New to Bindi! Awaken the body with the physical, mindful and mental practice of Kundalini, often known as "yoga of awareness". Through chanting, meditation, pranayama (breath work), and yoga asana (body postures), you will clear blockages, heal, relieve stress, create self-love and awareness for your mind, body and soul. This practice appeals to people who want a yoga method that is powerful, meditative, relaxing, while incorporating all of the traditional tools of a yoga practitioner to gain more self-awareness and self-care to her/his mind, body and, soul. Classes are held in our non-heated room. Mats and props are available for you to use, or you can bring your own.