Ariel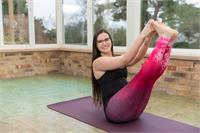 Ariel Ray has been teaching vinyasa yoga since 2014 and started praccing in 2012. She started the journey of yoga to lose weight but found a whole new lifestyle, embracing happiness in each moment and the strength to let go of the past. Ariel became a Tier 2: 500 hour Bapste Cer'ed Teacher in February 2017, a*er studying with the Bapste Yoga Instute. Ariel has also completed Shak Vinyasa Yoga's Teacher Mentorship Program April 2016. The supporve and encouraging Bapste Community inspired her to give back through the service of yoga. She also received a BA in Environmental Studies focused in Society and Sustainability from the University of Washington in 2013. Ariel teaches to inspire change and transformaon in the body and mind, "Dream, Believe, Succeed".
Ariel instructs the following:
Meld movement and breath for an amazing mind-body practice. These faster-paced classes are perfect to create a strong, flexible and balanced body with fun and energetic music to keep up the energy throughout class! Room temperature is around 95 degrees, so be prepared to get your sweat on and detox the body!

Hot Power Vinyasa classes are best suited for the yoga practitioner who has taken at least 3 Hot Yoga classes prior to their first Power class. Terminology and alignment from Hot Yoga classes is what will help build a strong but safe practice in HPV classes. Please be well hydrated prior to class, bring your own mat, towel, and plenty of water!