Jaimi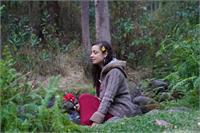 I attended my first yoga class at 15 years old, little did I know that I was about to embark on a never-ending journey.
Five years later, I found myself in Costa Rica for my first teacher training course. I knew deep in my heart that it was time to give back what I had personally gained from yoga.
In 2016, I packed up my belongings to chase my dreams and follow the two things I was most passionate about; yoga and traveling.
Over the course of six months, I lived in various ashrams and yoga centers around the world, playing both roles of teacher and student. During this time I came to the realization that yoga is much more than just a simple exercise for the physical body. To me, yoga is the process of letting go of what no longer serves our lives in a positive way; allowing us to uncover the gold that lies in the center of us all.
That is why my aspirations as a teacher have little to do with flexibility or the perfect handstand. Rather, my goal is to create the space for you to relax, reconnect with your body, and obtain what is rightfully yours - a state of inner peace.
I have always been drawn to teaching slower paced classes with the main focus on the breath and calming the mind.
Whether you are just looking to stretch, unwind from the day, or embark on a deep spirtual journey- I hope to inspire and create the space for you to thrive.
No matter where you are on the path, yoga has something to offer every BODY.
Jaimi is currently not instructing any classes.