Kara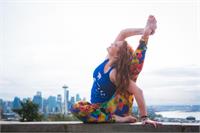 Kara has a passion for movement and anatomy. Her love of movement began with dance and extended into teaching Pilates as an apprentice at the age of 17. A few years later, she was the youngest teacher to enter and complete the certification program from the Pilates Center in Boulder, Colorado. Kara's love of anatomy led to a certificate and career in diagnostic ultrasound but after working in the field for several years she realized how much she missed teaching movement. Kara came to yoga hoping to cope with stress, but she left with so much more: a peace and a sense of calm that she had never known before, as well as a physical challenge that was different from her previous forms of movement. After her first yoga class Kara knew she had to teach! There was no way she was going to keep this secret to herself. She completed Baptiste's Level 1 teacher training program in 2012 and Tiffany Cruikshank's (Yoga Medicine) 200 hour program in February of 2014. She enjoys studying various styles of Yoga from international and local master teachers. Combing love of movement and anatomical alignment, she hopes to spark and inspire joy and playfulness through her teaching. In addition to teaching, she is the owner and creator of her own custom yoga wear company, Zebra Mama Yoga.
Kara instructs the following:
Meld movement and breath for an amazing mind-body practice. These faster-paced classes are perfect to create a strong, flexible and balanced body with fun and energetic music to keep up the energy throughout class! Room temperature is around 95 degrees, so be prepared to get your sweat on and detox the body!

Hot Power Vinyasa classes are best suited for the yoga practitioner who has taken at least 3 Hot Yoga classes prior to their first Power class. Terminology and alignment from Hot Yoga classes is what will help build a strong but safe practice in HPV classes. Please be well hydrated prior to class, bring your own mat, towel, and plenty of water!




This mixed level Aerial class is the perfect combination for those who are new to Aerial and for those who are ready to advance from a beginner to an intermediate student. Learn the basic grips and how to get in and out of the hammock safely.

Enjoy flying in a hammock, swaying gently suspended from the ceiling, while loosening tight muscles in a beautiful way. Aerial yoga is one of the most fun and creative classes we offer at Bindi! Build strength, flexibility, balance, and metal focus and see the world upside down. Aerial Yoga contains many upside down postures to help decompression of the spine from everyday activities such as sitting at desks and driving long commutes to work. Athletes that are constantly moving and parents that are always on the go, really enjoy these classes for decompression and unlocking muscles that are hard to unlock in mat classes. Aerial classes are held in our non-heated room. Please wear a shirt that covers the arm pits and take out jewelry to prevent snagging the fabric. Mats and props are available for your use, or you can bring your own. All levels are welcome to Aerial classes! Due to our aerial fabric, our weight limit for classes is 250lbs.

Please be on time for this class as the paperwork and hammock set up takes time. Please keep in mind that if you are unable to come to your scheduled class, you must cancel your class at least 2 hours ahead of time or there may be a penalty on your account.