Jessica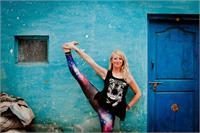 When my journey with yoga began 7 years ago, I had no idea how deeply and profoundly it would enrich my life. For the first time in many years, I developed a sense of peace and ease in my own mind. I even started to feel a love for and belief in myself that I hadn't felt since childhood. I was instantly hooked and it became my new form of daily medicine. My journey is no where near complete as I am always learning and evolving in my own exploration of life and of the practice. Currently my main focus is on studying the principles of Ayurveda and learning to live a life in balance and in harmony. My classes reflect this understanding by selecting what is right for our bodies energetically depending on the season, time of day, or what's going on around the world. My goal is for my students to leave feeling strong, empowered, and connected to their radiant joyful truth!
Jessica instructs the following:
Our Hot Yoga classes are "Hatha" based with a flair of vinyasa. Haha comprises of postures (asana), Breath work (pranayama) and meditation (dyana). The longer posture holds help to increase both strength and steadiness of the mind and body, and also find benefits out of each asana with proper alignment cues and hands on adjustments when needed. The heat is designed to help increase muscular flexibility, sweat, and to help free your body from toxins. All levels welcome to these classes! Please bring a mat, towel, and plenty of water.

The temperature and humidity may vary depending on class time and number of students, but we try and make the atmosphere the same for each class. We keep our heated room to around 105 degrees (Hot Power Vinyasa classes range from 95-100 degrees). We are aware that humidity can cause serious overheating and over exhaustion, therefore we opt for a dryer heat by excluding a humidifier which most hot yoga studios in the area have.

If you have any questions about Hot Yoga at Bindi Yoga before taking a class, please let us know! All of our instructors are here to help in any way possible.




New to Aerial? This is the class for you! Learn the basic grips and how to get in and out of the hammock safely.

Enjoy flying in a hammock, swaying gently suspended from the ceiling, while loosening tight muscles in a beautiful way. Aerial yoga is one of the most fun and creative classes we offer at Bindi! Build strength, flexibility, balance, and metal focus and see the world upside down. Aerial Yoga contains many upside down postures to help decompression of the spine from everyday activities such as sitting at desks and driving long commutes to work. Athletes that are constantly moving and parents that are always on the go, really enjoy these classes for decompression and unlocking muscles that are hard to unlock in mat classes.

Aerial classes are held in our non-heated room. Please wear a shirt that covers the arm pits and take out jewelry to prevent snagging the fabric. Mats and props are available for your use, or you can bring your own. Due to our delicate aerial fabric, our weight limit for classes is 250lbs.

Please be on time for this class as the paperwork and hammock set up takes time. Please keep in mind that if you need to cancel your class, do so at least 2 hours prior to class start time to avoid penalty on your account.




Meld movement and breath for an amazing mind-body practice. These faster-paced classes are perfect to create a strong, flexible and balanced body with fun and energetic music to keep up the energy throughout class! Room temperature is around 95 degrees, so be prepared to get your sweat on and detox the body!

HPV classes are best suited for the yoga practitioner who has taken at least 3 Hot Yoga classes prior to their first Power class. Terminology and alignment from Hot Yoga classes is what will help build a strong but safe practice in HPV classes. Please be well hydrated prior to class and bring your own mat, towel, and plenty of water!