Jo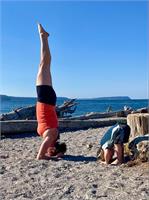 My practice has taught me how to breathe, has allowed me to tune in and appreciate myself, it builds my confidence, heals and strengthens my body, and continually allows my mind a more compassionate, clear, and patient perspective in all aspects of my life. Yoga is an incredible gift. We are so lucky! My wish is to share the benefits of yoga like they have been shared with me, while practicing and growing together in this wonderful community. I was certified to teach through Yoga Works in February of 2015, and look forward to taking more training in the near future. I am so grateful for the opportunity to share my practice in my home studio, Bindi. I strive for balance in my classes-so be ready to explore the power of breath in challenging postures, along with wonderful restorative postures and meditation. -Namaste
Jo instructs the following:
What a great way to end a busy day! Class will be focused on pranayama (breath) and seated postures. Gentle yoga classes are typically appropriate for those who want a softer, slower paced and relaxing practice. Unlike Yin, we will not be holding postures for long periods of time, but we will move at a slow moving pace. You will leave feeling very relaxed and stress free.

Class will be not be heated but we do like to make it cozy so layer your clothing for your comfort level.




Our hot yoga classes are the most popular classes at Bindi Yoga! Simply put, hot yoga is yoga postures performed in a heated room. These classes are primarily hatha based, but our instructors like to add a flowing element to classes which add internal heat and energy. Each class and each teacher teaches differently to bring variety as well as variations and modifications to each class.

The temperature and humidity may vary depending on class time and number of students, but we try and make the atmosphere the same for each class. We keep our heated room to around 105 degrees (Hot Power Vinyasa classes range from 95-100 degrees). We are aware that humidity can cause serious overheating and over exhaustion, therefore we opt for a dryer heat by excluding a humidifier which most hot yoga studios in the area have.

If you have any questions about Hot Yoga at Bindi Yoga before taking a class, please let us know! All of our instructors are here to help in any way possible.