Shanah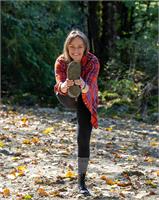 Shanah Walter was drawn to yoga as a teenager because its focus on each individual's practice and non-competitive nature were a great pair for her since she lacked coordination and athleticism in the more traditional sense. While she enjoyed team sports, they never really enjoyed her, so she turned to running and yoga at the age of 15. After the birth of her second son, Shanah came back to yoga to lose baby weight and find a moment of quiet. She tried Hot Yoga for the first time and immediately fell in love. In 3 months she found a total transformation in her mind and body. She signed up for teacher training after encouragement from her husband, Eric, who had also seen the positive changes in Shanah and the joy it brought her. She took Core Power Yoga's 200 hr power vinyasa teacher training, then subsequently has been trained in Yoga Sculpt and Hot Power Fusion. In an ironic turn, the yoga that Shanah was drawn to because she lacked athleticism has resulted in greater coordination, balance and strength and her classes reflect her passion for a rigorous and playful practice. When Shanah is not on her mat, she is most often playing with her two little boys, Jackson (5) and Holden (3), wine tasting with friends, or spending time with her favorite person, her husband Eric.
Shanah instructs the following:
Our hot yoga classes are the most popular classes at Bindi Yoga! Simply put, hot yoga is yoga postures performed in a heated room. These classes are primarily hatha based, but our instructors like to add a flowing element to classes which add internal heat and energy. Each class and each teacher teaches differently to bring variety as well as variations and modifications to each class.

The temperature and humidity may vary depending on class time and number of students, but we try and make the atmosphere the same for each class. We keep our heated room to around 105 degrees (Hot Power Vinyasa classes range from 95-100 degrees). We are aware that humidity can cause serious overheating and over exhaustion, therefore we opt for a dryer heat by excluding a humidifier which most hot yoga studios in the area have.

If you have any questions about Hot Yoga at Bindi Yoga before taking a class, please let us know! All of our instructors are here to help in any way possible.




A flowing yoga class that incorporates strength, flexibility and stamina! This class will give you a great workout and feeling rejuvenated throughout the entire body. In this class, count on building long lean muscles, and learning proper alignment of the body in all the poses.

Room temperature is around 95-100 degrees.




This class is for any yoga student ready for a new challenge! Yoga Sculpt will incorporate a flowing yoga practice with the use of weights which is designed to sculpt the muscles giving you definition. We will be incorporating a Vinyasa flow into class which will work your cardiovascular system as well as your circulatory system.

Class is

not

in a hot room, but bring a towel and water because you will sweat! Mats and weights will be provided but you are more than welcome to bring your own.




Summer yoga fun! We are so excited to bring yoga to the kids this summer. Please feel free to stay and do yoga with your child or maybe have some free time.




90 minutes of hot and sweaty fun!

A flowing yoga class that incorporates strength, flexibility and stamina! This class will leave you tired yet rejuvenated throughout the entire body. In this class, count on building long lean muscles, finding your balance as you move from one poster to the next and building coordination. Room temperature will be held around 95 degrees, but you will sweat just as much as you do in a 105 degree hot yoga class!

We recommend taking at least a few hatha based classes first before taking on a vinyasa power class to get the basics and terminology.