Kim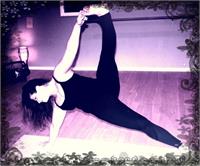 I am the mother of four amazing and busy children, an over energetic border collie/beagle child and three frisky feline kiddos as well. Some days I feel like I run a zoo! I NEED yoga in my own life and I know everyone can benefit from a yoga practice in theirs! I know in my heart and soul that yoga really IS for EVERY body! Fourteen years ago I had two Doctors tell me I needed spinal surgery, discs needed to be fused which would cause a permanent loss of mobility. Thankfully I was convinced by a third Doctor and my sister to try yoga... I was immediately hooked! I never felt better, not only in my back but in my entire body and self esteem. I had more energy, was stronger than ever and lost weight quickly! I have a drive, a passion, to share this experience with everyone I can. I love to see the growth in my students, physically as well as every other aspect. I bring the love of yoga basics to students who have never had the pleasure of trying yoga as well as to intermediate and advanced students, helping with alignment and up-leveling. Always encouraging growth. I am trained in Vinyasa, Yin and Hatha style yoga. I am and will continue to be a student myself. I look forward to sharing my passion with you soon!
Kim instructs the following:
We like to call this "Yummy Yoga"! This class is a great way to unwind and relax, leaving you feeling rejuvenated and stress free. Classes are held in a warm room (not hot) where you will be guided into asanas/postures sometimes using props such as blankets, bolsters, blocks, and straps. Asanas are held for several minutes allowing deep connective tissues to undergo static stresses to be remodeled. You will be giving your body and mind time to relax for the rest of the day.




This mixed level Aerial class is the perfect combination for those who are new to Aerial and for those who are ready to advance from a beginner to an intermediate student. Learn the basic grips and how to get in and out of the hammock safely. We will start out with opening meditation, warm up, standing poses, inversions, and a relaxing ending in our hammock.

Please be on time for this class as the paperwork and hammock set up takes time. Please wear a closed arm pit shirt and remove all jewelry. Please keep in mind that if you are unable to come to your scheduled class, you must cancel your class at least 2 hours ahead of time or there may be a penalty on your account.

These classes are non-heated.




MFR: Myofascial Release

+

Yin: slow-paced class with poses that are held for longer periods of time.

=

AN AMAZING AND RELAXING CLASS!

We call this "yummy yoga" because Yin classes are very relaxing and calming. Bolsters, blocks and other equipment are supplied for you. With the use of tennis balls and other props, we can use our regular Yin practice with myofascial release techniques. Get your connective tissue (fascia) to release tension and gain a great stretch!




Join us for some summer fun in the hammocks. Children ages 5-7 must be with an adult during this class! Class size is limited to 11 students.