Michelle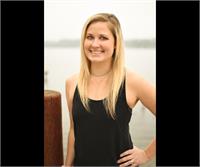 (Co-Owner of Bindi Yoga)
Michelle has been teaching yoga since 2009 and has been a student yogi since she was in high school. Upon completion of high school, she went on to find a career in Exercise Science and Nutrition at Bastyr University in Kenmore, Washington. She decided in 2010 that becoming a yoga instructor would help her to incorporate things she was learning in school as well as teaching something that she was passionate about. Not only was she certified through Yoga Works with 200 hours in 2010, but she also has a bachelor's degree in Exercise Science and Wellness from Bastyr. In Michelle's yoga classes you will find that she likes to incorporate and teach students about anatomy and physiology of the human body as well as making class fun and challenging to all her students. She believes yoga should be practiced very safely and believes in good alignment and positioning the body to each individual's body type. Explore, Learn, Have fun!
Michelle instructs the following:
Our hot yoga classes are the most popular classes at Bindi Yoga! Simply put, hot yoga is yoga postures performed in a heated room. These classes are primarily hatha based, but our instructors like to add a flowing element to classes which add internal heat and energy. Each class and each teacher teaches differently to bring variety as well as variations and modifications to each class.

The temperature and humidity may vary depending on class time and number of students, but we try and make the atmosphere the same for each class. We keep our heated room to around 105 degrees (Hot Power Vinyasa classes range from 95-100 degrees). We are aware that humidity can cause serious overheating and over exhaustion, therefore we opt for a dryer heat by excluding a humidifier which most hot yoga studios in the area have.

If you have any questions about Hot Yoga at Bindi Yoga before taking a class, please let us know! All of our instructors are here to help in any way possible.




This class is for any yoga student ready for a new challenge! Yoga Sculpt will incorporate a flowing yoga practice with the use of weights which is designed to sculpt the muscles giving you definition. We will be incorporating a Vinyasa flow into class which will work your cardiovascular system as well as your circulatory system.

Class is

not

in a hot room, but bring a towel and water because you will sweat! Mats and weights will be provided but you are more than welcome to bring your own.




This is your get up and go class to jump start your day! There is nothing better than starting your day with a yoga class focused on strengthening and stretching the entire body! This class is held in a room set to 105 degrees to help deepen your stretch, detox the body, and leave you feeling clean from within.