Susan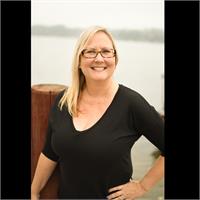 (Co-owner of Bindi Yoga)
My training was done at the Yoga Tree in Freemont. I have my 500 hour Yoga Alliance Certification. Besides yoga being a big part of my life, I also share my life with my husband Jack and 4 dogs. My daughter Michelle (also co-owner) and I started Bindi Yoga together February 2011.
A yoga practice is different for everyone, you do not need to be flexible, have great balance, or have a dancers body. Anyone can do some form of yoga. I have been humbled in my own practice and reminded that just because I teach yoga doesn't mean that I can do a picture perfect pose. We all have injuries or other challenges that affect our yoga practice. I give myself a daily reminder that yoga is a lifetime practice.
Yoga invites us to explore connections with the relationship we have within ourselves. When we build on the awareness of body and breath, thoughts and emotions, we can start to really understand who we truly are. My classes are a good mix for both the experienced yogi as well as the beginner yogi. By creating a space for each yogi to feel free to move into a more challenging pose or to take it down a notch allows you to be more in control over your practice. My job is to guide you and help you achieve your goals. At anytime you feel you need additional help or guidance regarding your yoga practice, please do not hesitate to as anyone of us. We love hearing from our students! -Namaste Susan
Susan instructs the following:
Our hot yoga classes are the most popular classes at Bindi Yoga! Simply put, hot yoga is yoga postures performed in a heated room. These classes are primarily hatha based, but our instructors like to add a flowing element to classes which add internal heat and energy. Each class and each teacher teaches differently to bring variety as well as variations and modifications to each class.

The temperature and humidity may vary depending on class time and number of students, but we try and make the atmosphere the same for each class. We keep our heated room to around 105 degrees (Hot Power Vinyasa classes range from 95-100 degrees). We are aware that humidity can cause serious overheating and over exhaustion, therefore we opt for a dryer heat by excluding a humidifier which most hot yoga studios in the area have.

If you have any questions about Hot Yoga at Bindi Yoga before taking a class, please let us know! All of our instructors are here to help in any way possible.